Welcome to Breakpoint 2007, the fith anniversary of the world's biggest pure demoscene event. 1000 creative participants from more than 30 nations are expected to once again gather in the beautiful town of Bingen am Rhein, Germany, from the 6th to the 9th of April 2007 (Easter weekend), enjoying 4 days of round-the-clock acitivity in arts, technology and international socializing.
In case you've never been to a demoparty before, have a look at our New Visitors section now - else read on.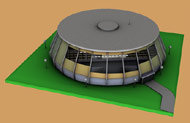 For 2007 our party theme will take you to a journey through the time and space of the demoscene - we'll go back to the very roots of our community, bringing lots of features and competitions for oldschool hardware platforms, and will have a look at how the scene has progressed from back the stone age until today. And while we are at it, we'll take a glimpse of the future, trying to raise tomorrows scene standards once again.
Everything that has made Breakpoint the most beloved party in our scene during the last 4 years will remain - we'll make sure to give you the very best possibly party experience. Tons of competitions for each and every taste, the biggest choice of excellent food ever seen on a demoparty, extremely cool music liveacts to dance to, a seperate beer/party-tent, a meadow with a warming bonfire for long outside nights... everything a scener could wish for.
Due to the enormous success and overcrowdings of the Breakpoint seminar tracks in recent years, we'll again extend on those. Breakpoint 2007 for the first time will feature a seperate hall for those - the abdonded city swimming hall located on the party area - enjoy the top seminar speakers from the demoscene, the game development community and the scientific world, sharing their knowledge and insights with you inside a massive swimming pool.
So - don't miss the party event of the year, visit Breakpoint 2007 and register now. Any questions left? Join the IRCNet channel #breakpoint, or contact the organizing team by mailing to our hotline mail address: .