Travelling
Breakpoint is held in the city of Bingen, a small city located at the river rhine (Rhein) between Mainz and Cologne. It's perfectly reachable by airplane, train, car and even ship. On this page we have gathered lots of information and hints on how to get to Breakpoint the cheapest and most convenient way.
Going by car
Bingen is connected through the german motorways A60 and A61, which are connected to all major german motorways (A1, A3, A4, A5, A6). Here are a few suggested routes: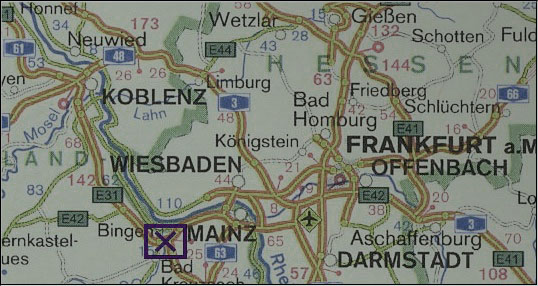 North
Get on the A7 direction Hannover (if you come from Sweden, get on A1 first till you reach A7 after Hamburg). Prepare for a loooooong ride till you get to the Hattenbacher Dreieck where you then leave the A7 to get on A5 direction Frankfurt/Main. Pass the Frankfurter Nordwestkreuz. Some km's later you will arrive at the Frankfurter Kreuz, A3 is the motorway to be then. Follow the signs to Mainz/Wiesbaden/Bingen (you'll see A67 and some others ;). You'll end up on the A60, direction Bingen. Follow it and see below.
If you are coming from north-west (Ruhr area, netherlands), check the directions for "west".
In case you care: Two exits before Bingen (Ingelheim-West/Gau-Algesheim), there is a McDonalds
West
Coming from france, get on the A6 at Saarbrücken. At Kreuz Frankenthal you'll see the A61. Go there, direction Mainz/Alzey/Worms. Exit at Bingen (see below).
For those coming from Venlo/Aachen/Netherlands/Cologne: Get on the A1 which later merges into the A61. Pretty easy.
McDonalds: Exit Pfalzfeld, exit Waldlaubersheim (2 exits before Bingen); Burger King: exit Rheinböllen
East
A9 is your friend. At Nürnberg, get on the A6, direction Mannheim/Heilbronn. Follow it until Kreuz Frankenthal, where you have to get onto the A61, direction Mainz/Alzey/Worms. Follow it till Bingen, then refer to below.
South
In case you're starting out below munich, first travel in that direction. From Munich, get on the A9 till Nürnberg (your route-planner may tell you to use A8, which is always full of traffic-jams). From there, get on the A6, direction Mannheim/Heilbronn. Follow it till Kreuz Frankenthal, where you have to get on the A61. Follow it till Bingen and see below.
Bingen
When reaching Bingen on the A60 or A61, there isn't much you could do wrong. The most common mistake people make is using the wrong exit. Please do not exit at "Bingen-Sponsheim", exit at "Bingen-Mitte". Also from most directions the exists have been recently redesigned to be way too short, have wrong markings etc to be absolutely dangerous and confusing. Please drive SLOWLY. Here's a small map for your way through Bingen. Click it for a larger view.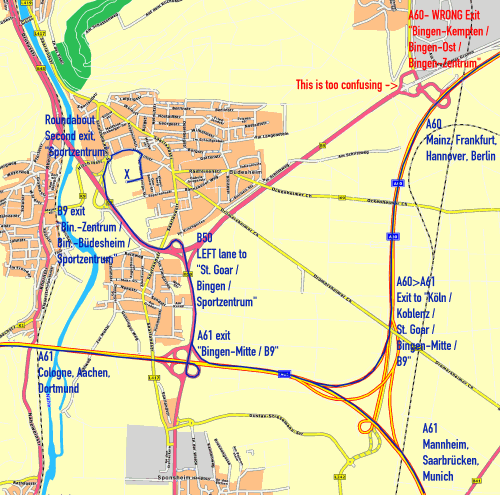 Location address:
Rundsporthalle Büdesheim, Nuits-Saint-Georges-Strasse, 55411 Bingen am Rhein

Hotline number during the party in case you get lost: +49 6721 154115 (06721-154115 from germany)
In case you still get lost, maybe because you insisted on taking the wrong exit even after we warned you, ask the local people on how to get to "Rundsporthalle Büdesheim".
Also from the motorway exit on, there will be signs guiding you to the locations. They'll be white, A3 sized and have a big breakpoint logo on them.
See below for maps and infos regarding the hotel locations etc.
Plane (Frankfurt Airport)
If you plan to go with a major airline, you will arrive at Frankfurt Airport. This is the real Frankfurt Airport, not to be mixed up with "Frankfurt"-Hahn, which is located >150km away (and much nearer to Bingen).
Arriving at the Airport, you need to go the regional train station ("Regionalbahnhof"), not the long distance train station. There a few direct connections to Bingen per day, but in most cases you will have to change trains in Mainz. Direct connection is "Regionalbahn" direction Koblenz. Connection with change in Mainz is "S-Bahn S8" direction Wiesbaden. Then change to "Regionalbahn" direction Koblenz in Mainz Hbf (central station). In both cases, exit at "Bingen (Rhein) Hbf" (Central station), NOT "Bingen (Rhein) Stadt)" (City).
Directly in front of the Central Station, there is a bus stop where the free Breakpoint bus line will pick you up to bring you to the location.
The ticket price from Frankfurt to Bingen is 6 Euro. You have to use the ticket machines labeled with "RMV". The price category ("Preisstufe") to use is at the ticket machine is 5. You can also buy a group ticket for 5 people for 20 Euro.
Plane (Frankfurt-Hahn)
Frankfurt-Hahn is an abandoned military airport located in the "Hunsrück" mountains. It's just called "Frankfurt" for marketing reasons - in fact it's 150km away from Frankfurt, in a different state. Luckily it is pretty close to Bingen. And best of all: The cheapo airline Ryanair (and a few others) is going there. If you want to go by plane, make sure you check out if your home city is connected by those airlines.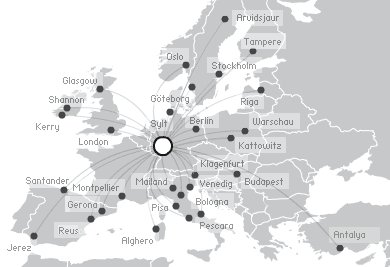 Routes from/to Frankfurt-Hahn airport:
Alghero
Antalya
Arvidsjaur
Berlin Tempelhof
Bologna Forli
Budapest
Gerona
Glasgow Prestwick
Göteborg
Hurghada
Jerez de la Frontera
Kattowitz
Kerry
Klagenfurt
Lamezia Terme
London Stansted
Lourdes
Mailand Bergamo
Montpellier
Oslo Torp
Pescara
Pisa
Reus
Riga
Rom Ciampino
Santander
Shannon
Stockholm Skavsta
Tampere
Varna
Venedig Treviso
Warschau
As the airport is located at the end of the world, far (~40km) away from any motorway or train station, getting away from there is a bit tricky.
You need to take the Bus to Mainz (1 hour ride) and then from Mainz take the regional train back to Bingen (the Bus crosses Bingen but doesn't stop there). Together this will be ~14 Euro/trip
But wait: There is a much better alternative! For flights that carry groups of sceners (10+ people) we will try to organize cheap bustrips directly to the party location. Depending on the number of people, this will cost you 5-10 Euro per trip, so it's much cheaper, faster and more comfortable. As soon as you have booked your ticket, please enter your flight detail at our Airport shuttle registration. We will contact you ~1 week before the party to inform you if we can offer a bus trip for your flight. As a LOT of sceners are coming with ryanair, chances are high those trips will take place.
Going by train
Bingen is connected with one of the most busy railroad lines in germany. There are direct connections to Bingen from many german cities. All InterCity trains going from Köln to Frankfurt and opposite direction stop at Bingen (Rhein) Hbf (Central Station). Please keep in mind that InterCity Express trains are using the new railroad on the other side of the rhine and do not stop in Bingen.
You may search for trains using the Deutsche Bahn travel planner. As destination choose "Bingen(Rhein) Hbf".
If you are a last-minute traveler, we have got a nice hint for you: Since the beginning of the year, Deutsche Bahn has launched a new discount ticket called Surf & Rail(german text). Each monday they publish a list of a few routes with massive discounted prices for the current week. The ticket price is just 50 Euros for a ICE return ticket from anywhere in germany! And if you travel in groups, all people travelling with you will even only have to pay 25 Euros. Usually most of the routes published more or less cross Bingen (Hamburg-München, Dortmund-Frankfurt etc all do). In worst case you'll have to exit at Frankfurt Airport (where nearly all those routes stop) or Mannheim and travel the few remaining kms using a regular ticket. But be warned: There is the small risk that there are no routes available for your city during the easter week...
BP bus shuttle service, hotel maps etc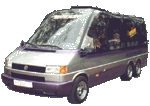 Just as in previous years, Breakpoint 2005 is featuring a free bus service connecting the party location, a supermarket, the hotels, the train stations and the bingen inner city. Due to the enormous success our service had during the last two years, we've again extended it for this years Breakpoint. The Busses will be going non-stop from 09:00 in the morning till 03:00 in the night. You want to go shopping? You want to do a short sight-seeing tour to the rhine area? You wish to get to your hotel room in the nights? Well, the Breakpoint Bus Service will bring you there!
More info about the bus service, maps and a detailed timetable are available at the Bus Service Page.