General info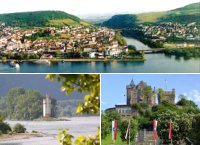 The party is located in Bingen am Rhein, a beautiful small town at the junction of the rivers Rhine and Nahe. Bingen is surrounded by a varied landscape, known for its natural beauty, its castles and other places of interest. It's around 80km west of Frankfurt/Main, and 100km south of Cologne. Bingen is easily reachable by car (A60 and A61 motorways), by rail (Inter-City Express / Inter-City / Interregio [regional] trains), by air (Frankfurt-Main, Frankfurt-Hahn and Rhein-Mosel airports), and by inland shipping, and therefore is a perfect choice for an international event like Breakpoint. For details, visit the Travelling page.
The party will start on Good Friday, March 25th at 12:00PM and end on Easter Monday, March 28th at 1:00PM. This makes 73 hours of non-stop fun. The entrance fee will be 45 EUR [BP2005 financial background info], which is a slight increase compared to previous years. The entrance fee covers all party features including the seminars, the non-stop (09:00-03:00) bus shuttle service, and well - everything else. No additional costs. There are no single day tickets, and no rebates if you come earlier, later or by spaceship. Girls get in for free though.
Location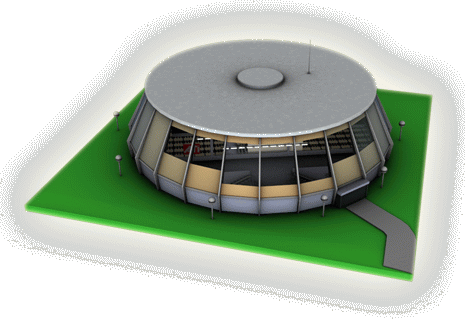 Move your mouse pointer over the image to view the inside
While the military depot used in previous years was a real nice place for our party, for 2005 we've switched to a different location in the same town. People who used the shower/swimming bath facilities at BP 2003 and 2004 probably will already know the new location - it's that big round sports hall at the sports centre.
The "Rundsporthalle" to be used in 2005 features a high number of improvements compared to earlier Breakpoint parties. First of all, the main party area has got 30% more space compared to the previous one. This allows us to have both more seats and more space between tables rows, an often requested improvement. Then there is a huge grandstand to watch competitions from and enough space for a gigantic bigscreen. There also will be a separate seminar area, lots of clean showers and toilets - and much more.
Basicly everything we got improvements requests for in last years survey has been worked on. This of course includes remedy for all the dreaded heating issues of the old military depot hall. A small downer exists, though: At the "Rundsporthalle", we can't have the extremely high degree of freedom regarding outdoor action we had before - the gigantic bonfire of doom is history. As a compensation for that we'll have a really nice beer garden and well, a smaller bonfire. Have a look at the map below to see the Breakpoint 2005 facilities.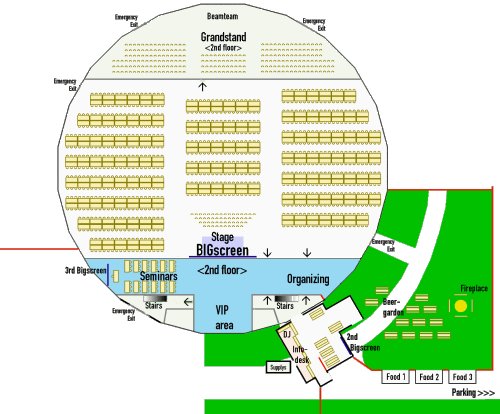 Click for a larger view
| | |
| --- | --- |
| The main hall | Inside view |
| Seminar area | The grandstand |
| View to the invisible bigscreen | Clean showers |
| Future beer garden | Parking-lots (lots of lots ;) |
Party features
Among the features are:
Lots of competitions for Amiga, PC and C64, music, graphics and the rest
Lots of demoscene-focussed seminars and workshops
Several stunning music liveacts
Fun competitions
A MASSIVE big screen and powerful sound system
Second stage with djs, demoshows and more...
Separate seminar area
Separate chillout/meeting/boozing-tent
No gamers, no script kiddies, only creative people
Space for up to 1000 visitors (30% more space than in 2004)
Hotel reservation service with tons of hotel rooms at greatly discounted (50% off) prices
Own (free) bus service connecting the location, a supermarket, train station, the inner city and the hotels non-stop from 09:00 in the morning till 03:00 in the night
Separated sleeping areas in the main hall (limited space)
A beer garden outside the party hall to crash, sit and drink - including a bonfire to keep you warm during the nights
Tasty food and drinks at decent prices (even higher food selection including vegetarian food, improved quality this year)
Both softdrinks and several brands of beer sold at cheap near-selfcost-prices at the infodesk
A working and fast party network
Internet access including own IRCNET uplink
Traditional entertainment provided by our new host benjam/salva mea
and of course scenish, friendly atmosphere created by us and YOU